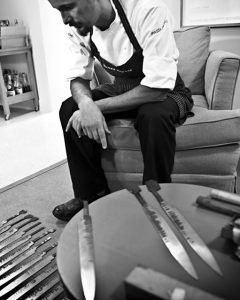 enrico crippa
text by michele massaro
i remember the first encounter with him, a disaster, i had to face a challenge, just one knife in a limited edition of 10 pieces. in next meetings, the project began to take shape, i learned to listen to him, and got an important lesson, not only professionally but also humanly. during these two years of work and comparison my growing enthusiasm led me to create a shortlist of 20 blades, among which the chef could choose the 10 that he liked most so that they became his very personal knives. crippa greatly liked the idea, and on the one hand i felt relieved that he could choose the knives that were more congenial to him, but on the other hand, i felt charged with the responsibility to create tools that were perfect, giving my best. that's how his example of rigor and precision has become my guiding light that in these two years have forged – in all respects – a new way of working and thinking.
the need for a study was carried out to make an engraving on a forged knife with a six-centuries old technology, which was carried out with a gold rim by master engravers flavia and renato sanzogni. this study was critical to understanding how to handle thermal treatment without "melting" the 24k gold. all the usual methods of hardening with furnaces or induction bring the blade into a single austenitic steel at a much higher temperature than that of the gold melting temperature. hence it began an in-depth study through various tests together with the piazza rosa technicians, a leader company in the field of laser technology. the results were astounding: in addition to achieving the goal of making the insert possible, the laser allowed to get a grain of spectacular size and homogeneity and hardness from 67 to 70 hcr. the first idea of knife decoration i proposed to crippa was quite classic, it was a floral branch. when the chef saw it, he said in all sincerity: "beautiful but maybe not very suitable for me …" at that point he went to the kitchen and came back with one sprig of chervil and one of parsley. "this is more suitable for a chef," he concluded. everything was born, in that very moment, including my vision of contrasting gold on crude and black brute de forges.
the knife thus obtained, a yanagiba of about 27 cm with symmetrical sharpening, is today crippa's multipurpose tool.